The day was introduced by Flying Start course manager Clodagh Kavanagh who encouraged the delegates to share ideas and experiences and gain inspiration from the day's speakers.
Breakfast with a CEO
The first talk came from Katie Page Harvey, CEO of multi-national retailer Harvey Norman and part owner of sales company Magic Millions. Katie talked of the struggles and triumphs she has had in managing Australia's largest retail business with her husband Gerry.
The company now has around 300 stores and employs 20,000 people worldwide, however she attributed the success of the business to the development and investment into her team and the evolution of their product and its services in order to deliver to the customer.
When matters moved onto the thoroughbred business Katie talked at length about the importance of getting more women involved and the significance they can have in racing and breeding as well as the need for people to vary their approach in attracting women as well as men as customers.
"It doesn't have to be in racing, but events need to be authentic to attract people." Katie Page Harvey
She encouraged industry leaders to use other sports to promote our own especially through events which encourage engagement with people.
This has already been seen to great effect through occasions such as the Magic Millions barrier draw on the beach at the beautiful Gold Coast. She stressed that 'it doesn't have to be in racing, but events need to be authentic to attract people'.
Vin Cox, MD of Godolphin Australia, with Katie Page Harvey
From retail to social
Following an interactive and entertaining teamwork event around the streets of Sydney, delegates settled back into their seats for the morning's second speaker, international social media and marketing guru Adam Franklin.
Adam revealed some insightful facts and experiences around the effectiveness of social media as a marketing tool relating especially to the thoroughbred industry. He stressed how the population, especially under 30s are becoming heavily reliant on social media. Staggeringly, 50% of young people would rather lose their sense of smell than their technologies.
Adam stressed the idea of being able to develop trust in potential customers before they even think about purchasing a product of a service or meeting a salesman. He also spoke of how social media and online sources answer the questions people are generally not prepared to ask whilst 'sales pressure' is present from businesses.
In an industry where trust and integrity are the ultimate necessities in conducting successful and sustainable business, thoroughbred industry participants should make full use of their online resources to not only build trust but widen their customer base.
Considering the positive interaction shown in the first half of this year's conference, the afternoon's discussions promise to be both insightful and entertaining.
On to Barangaroo
Following the morning session delegates, management and current Flying Start trainees assembled for lunch at Shirt Bar, a trendy restaurant in the bustling streets of Darling Harbour which doubles up as a shop for designer shirts before converting into a bar in the evening time. Owner Justin Marmot briefly talked about the successes and challenges he has faced with the business.
Delegates then visited Lendlease Tower and had a tour and lecture from Lendlease's Daniel Abbot and Sam Orton. The company is a leading property and infrastructure group which employs 16,000 people worldwide and has been involved in projects such as the September 11th Memorial and Museum in New York and the Sydney Opera House.
Dissection by the panel
Delegates returned to the Hyatt Hotel where a diverse panel discussed various topics. This was made up of Michael Di Natale, director of business development for Isobar and also managing director of 'Plunge', a gaming app focussed around horse racing, Trish Egan, CEO of Diabetes NSW and Vice Chair of ATC and Tom Ferrier, founder of 'Purposed', a company which helps businesses generate social and organisational value.
"With online resources speeding up feedback for a product nowadays, there is a real need for businesses to be as agile as their customers in responding to both negative and positive reviews." – Trish Egan
The panel firstly discussed what works in marketing in the wider world. They all agreed that it is paramount to make a connection between potential customers and the brand of a business.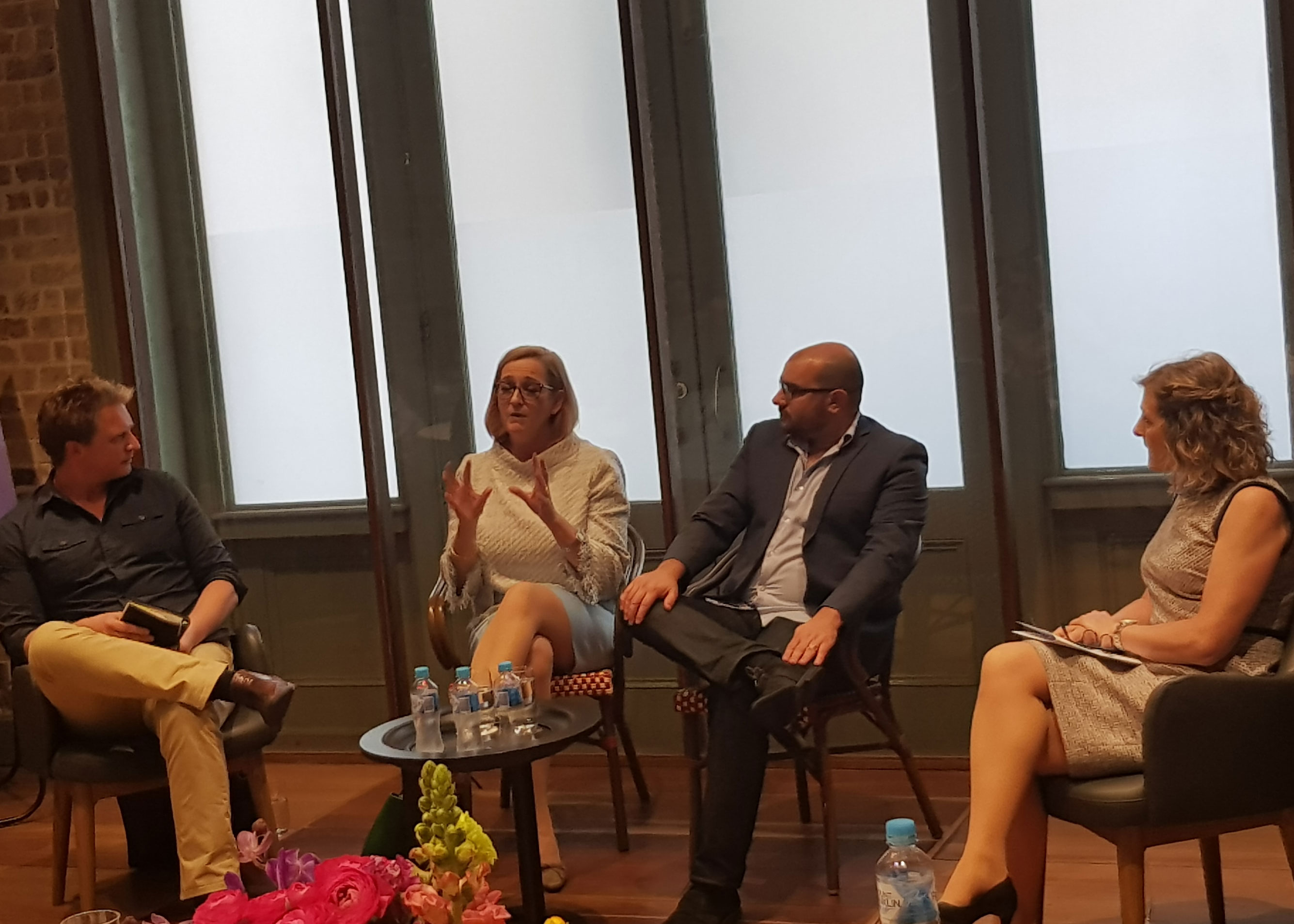 Panel discussion by Tom Ferrier (from left), Trish Eagan & Michael Di Natale
Trish Egan expanded further by stating that with online resources speeding up feedback for a product nowadays, there is a real need for businesses to be as agile as their customers in responding to both negative and positive reviews and altering their services accordingly. She talked of her experiences of 'positioning' a brand and considering the customer's point of view through the 'value equation'. This weighs up how much someone will pay for something versus how much they enjoy using it.
"The 'value equation'' weighs up how much someone will pay for something versus how much they enjoy using it." – Trish Egan
Embellishing on the morning session, the panel talked over the power of social media in marketing and how it can be a double-edged sword for your personal brand if used inappropriately. There is also a strong need to be consistent in your beliefs and values across all social media outlets in order to build trust.
Conversation moved on to the subject of negative public perception for a business, especially relevant to the thoroughbred industry as one of its biggest challenges. Tom Ferrier highlighted that 90% of consumers will switch brands for a similar product which is more ethical even if more expensive.
Trish Egan commented that with negative public perception, people lack trust in the product. What is needed is to acknowledge the faults in the business and tell the customers what you are doing to fix them. This creates 'mutual perception', something which all thoroughbred industry participants need to help create.
The Award winners
The final chapter of this year's alumni conference involved the presentation of the Business Excellence and Leadership Excellence awards. These were won by Henry Field and Vicky Leonard respectively who continue to have international influence through their breeding and marketing enterprises. Both took home a bronze horse sculpted by John Coll who is celebrated worldwide through his exhibitions and statues.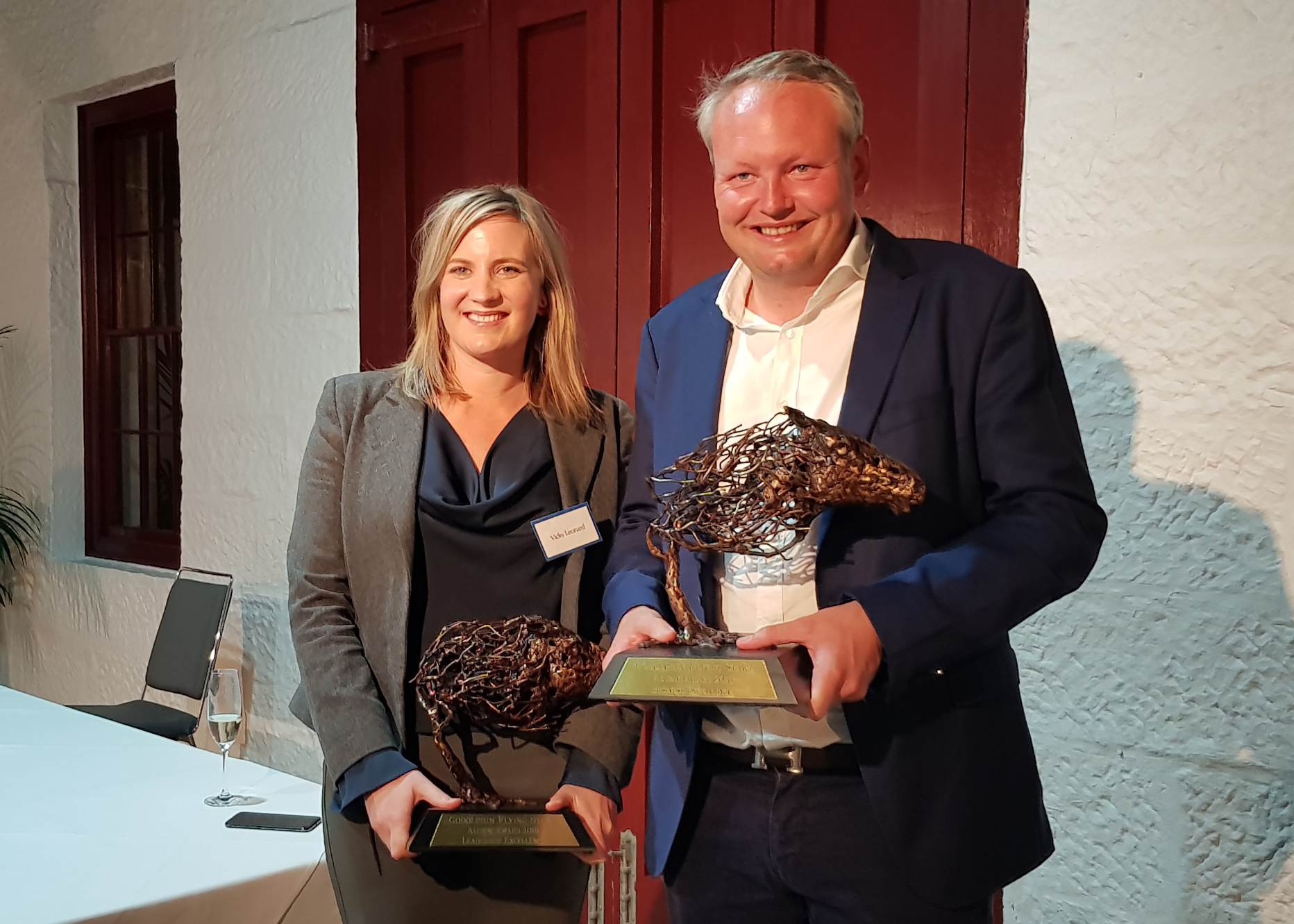 Australian alumni award winners Vicky Leonard (Leadership Excellence) & Henry Field (Business Excellence)
Godolphin Flying Start graduates continue to have a major impact on the thoroughbred industry internationally and considering the positive energy and quality of discussion at this year's alumni conference, it can only be judged as a success.
Thanks goes to Clodagh Kavanagh, Martin Larkin and Sophie Swain for organising the event as well as the 2017-2019 class of trainees for their supporting roles.